Your Lakeside Oasis: Lake Garda Resort Retreat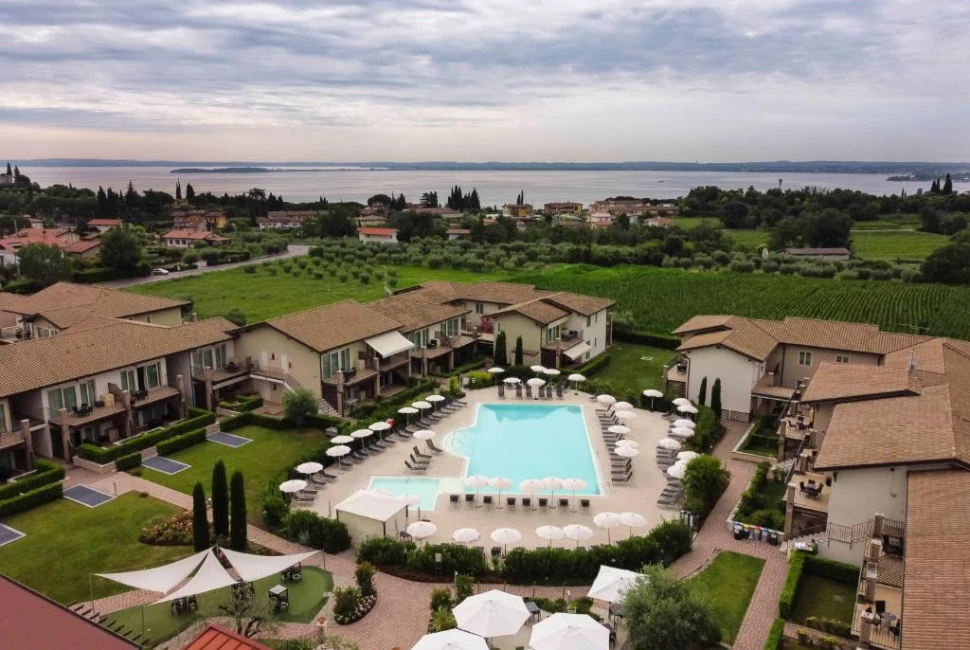 Nestled on the picturesque shores of Lake Garda, Lake Garda Resort in Moniga invites you to a haven of tranquility and leisure. This enchanting resort seamlessly blends modern comfort with natural beauty, offering a retreat where guests can unwind and indulge in the splendor of one of Italy's most stunning destinations.
Lakeside Paradise in Moniga
At Lake Garda Resort, the promise of a rejuvenating escape begins with an outdoor swimming pool surrounded by lush greenery. Whether basking in the sun on a comfortable lounger or taking a refreshing dip in the pool, guests find solace in the resort's serene ambiance. Families with little ones can delight in a dedicated children's pool, ensuring everyone in the family can enjoy their stay.
Proximity to Moniga and Lakeside Bliss
Conveniently located just 1.5 kilometers from the charming town of Moniga, Lake Garda Resort is a gateway to the region's lakeside treasures. Lakeside beaches beckon, providing an idyllic setting for sun-soaked days and water adventures. The resort's strategic location allows guests to explore the local attractions effortlessly.
Golf Enthusiast's Dream
For golf enthusiasts, Lake Garda Resort stands as a gateway to some of the finest golf venues in the Lake Garda region. As a guest, you enjoy exclusive discounts at select local golf clubs, creating a perfect blend of leisure and sport for an unforgettable vacation.
Comfortable Accommodations
Each room and apartment at Lake Garda Resort is a sanctuary of comfort and style. Embracing the beauty of the surroundings, all accommodations feature either a spacious terrace or a charming balcony, offering breathtaking views of the lake or the verdant garden. Air-conditioned interiors and satellite TV enhance the overall experience, ensuring a stay that is both relaxing and luxurious.
Exploring Beyond
Lake Garda Resort is ideally situated for those eager to explore the wider region. The historic town of Desenzano sul Garda is just 9 kilometers away, offering a rich tapestry of culture and history. Additionally, the charming town of Salò is a short drive of 13 kilometers from the resort, providing another layer of exploration for guests.
Convenient Travel
For those arriving by air, Verona International Airport is a mere 45 kilometers away. The seamless connectivity ensures that your journey to Lake Garda Resort is as convenient as your stay.
Parking and Connectivity
Guests driving to Lake Garda Resort will appreciate the convenience of on-site parking. This thoughtful amenity ensures that your vehicle is secure, allowing you to explore the region at your own pace.
Free WiFi
In an era where connectivity is paramount, Lake Garda Resort understands the importance of staying connected. Complimentary WiFi is available throughout the property, enabling guests to share their memorable moments and stay in touch with loved ones.
In summary, Lake Garda Resort in Moniga beckons travelers to experience a harmonious blend of relaxation, recreation, and natural beauty. Whether you're a golf enthusiast, a family seeking quality time together, or a couple in search of a romantic retreat, Lake Garda Resort promises an unforgettable escape by the shimmering waters of Lake Garda.